Back to overview
Circunstruction
Circunstruction helps alumni to take the first step as creators by creating their own performance: from idea to concept to performance.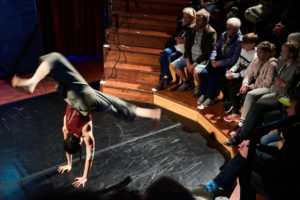 Circunstruction selects projects that want to cross boundaries, have substantive expressiveness and make the public think with current themes. After selection, the companies in the making will be given residency space and time for research. They are supported by an artistic supervisor. In the process, the participants develop their own artistic language and vision, as well as insight into production, audience recruitment and finance. The works will be tested for the public in Rotterdam neighborhoods and during the Circus Three Days in Maas Theater.
Earlier projects
2021
Sensory Cyr II
Natalalie Miles
Syncopate
Tobi & Finn
Flux
Natasha Chauhan
2020
Rene
Sinking Sideways:
Xenia Bannuscher and Dries Vanwalle
The Midheim
Company Trenina
Carina Klingsell: Chinese mast
Elena Damasio: Cyr Wheel
Saana Tolonen: Aerial Hoop
A Circle of Exchange
Erin Skye Circus
Erin Burley: Handstand, Straps, Contortion and ASMR (Relaxation Technique)
2019
CM_30 "color itself is a degree of darkness"
Kolja Hunneck: object manipulation
Entangle
Company Rita & Rita:
Annika Hemmerling, Julia Campistany Dance trapeze and mouth balancing.
Brace for impact
Knot on Hands: Britt Timmermans, Tijs Bastiaens, Mario Kunzi hand to hand

2018
Fifty-fifty
Júlia Campistany Albareda: static trapeze, street performance
Cycle
David Eisele: Cyr-wheel, diabolo, cello / loop station.
Koekoek
Milan Seegers: object manipulation, handstand, contortion
Statera
Partner and floor acrobatics: Tom-André Hendon, Jakobe Geens, Charlie Hession
2017
Camouflage
Captain sugar & the monkey puppets:
Eyrún Ævarsdóttir: Vertical rope, acrobatics
Friederike Kohring: Hand to hand, Chinese pole, Hair hanging
Jóakim Kvaran: Chinese pole, acrobatics
Michael Zandl: Hat Manipulation, Acrobatics
Wilko Schütz: Hand to hand, juggling, acrobatics
Dreams of the small gods
Zinnia Oberski: trapeze
Three men from the North
Nordic council: Merri Heikkilä: Object manipulation, (partner) acrobatics, vocals, mandolin and violin.
Bjarni Árnason: Diabolo and partner acrobatics.
Jakob Jacobsson: Vertical rope, partner acrobatics, piano and double bass.
Not sure where this came from
Familiar faces: Hendrik van Maele, Petra Steindl, Felix Zech, Josse de Broeck.
Alone I stand together
Joris de Jong: Object manipulation, puppetry.
Plus haut, encore plus haut
Paul van der Maat: Handstand, acrobatics and play
The Backdoor of a bakery
Company The Pregnant Elephant
Hanna de Vletter: Trapeze, vocals
Stina Otterström: Vertical rope and handstand, harp

Darwin Dogma
Paula Alvala (tissue, aerial ring, contortion)
Lisa Chudalla (aerial rope, chains, swalloing)
Hand in hand
Saar Rombout and Maartje Fijen:
triple cloudswing and dance
2016
The sum of what we do
Cie Pile en face:
Marieke Thijssen: hand to hand (flyer);
Remi Lebocey: acrobatics, music, object manipulation;
Kim-Jomi Fischer: dancer, hand to hand (basic);
Tom André R. Henden: acrobatics, hand to hand (basic), music;
Vincent Kollar: handstand, acrobatics;
David Mupanda: hand to hand (basic), acrobatics.
Mee in de zee
Sophie Reekers (vocals, guitar and soundscapes), Linda Schumm: aerial
The Madman
Ralph Öllinger
Contra
Fabuloka: Jorga Lok and Edwin Schulte: (aerial) acrobatics, handstand, juggling, theatre, dance and live music.
2015
System of a mechanical assembly
Maya Peckstadt: initiator, floor acrobatics, partner acrobatics, trapeze
Liv Knoche and Tobias Willasch: duo trapeze, partner acrobatics
Camille Toyer: Cyr wheel, acrobatics, partner acrobatics
Villa Verdraaid
Wietske Vogels: hula hoop, ring manipulation, air ring
Guido van Hout: juggling, object manipulation

Astruride
Fabrizio Spiteri: static trapeze, acrobatics
Itsaso
Ilse de Jong: Chinese pole, acrobatics and dance
Wheels
Project leader: Andreas Scharfenberg
Participants: Helen Budniatsky, wheelchair; David Eisele, Cyrwheel
2014
Langs
Harm van der Laan: Jongleren en partneracrobatiek
 Maartje Bonarius: Tissu en partneracrobatiek
Baff!
Gràcia Moragues Cantallops – Partner acrobatics and hat manipulation
Mateo Cañellas Sureda – Partner acrobatics and hat manipulation
No problem?
Lena Herrmann: Maker, partner acrobatics, banquine, aerial rope
Jirin Meilgaard: Partner acrobatics, banquine
Lisa Chudalla: Aerial Rope, Cyr Wheel
System(t)error
Benjamin
Kuitenbrouwer (Monki Business)
2013
Drift
Soesja Pijlman, Fleur Fonteijn en Sophie van der Vuurst de Vries.
Hemelpoort
Circographie David Severins met Ulrike Storch (antipodism), Hanna de Vletter (trapeze), Dixie Wanner(diabolo), Felix Griffin (acrobaat), Victoria Roosenrot( aerials, dance).
Falling/catching
Hand to hand: Marianna Boldini, Ola Glimåker, Jasmijn Rubingh en Andrea Souren
Een nieuwe productie
Inhoud