Back to overview
Dutch Circus Showcase
The Dutch Circus Showcase is a two-day event during Circusstad Festival where (inter)national programmers, producers and impresarios are invited to scout new professional talent.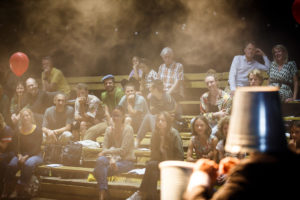 Would you like to participate?
Would you like to register for a place at the Dutch Circus Showcase? Mail your proposal or question to menno@circusstad.nl and you will hear as soon as possible whether you have been selected.
Mail circusstad
The showcase consists of approximately ten performances, including co-productions and work-in-progresses and other new Dutch work.
In addition, Dutch companies pitch their projects and performances. The Dutch Circus Showcase is the first and only circus showcase in the Netherlands and distinguishes itself internationally because all performances (including the work in progresses) are visited by both the professionals and the festival audience. The harvest usually consists of several turns at home and abroad, residency spots and new partnerships with impresarios.